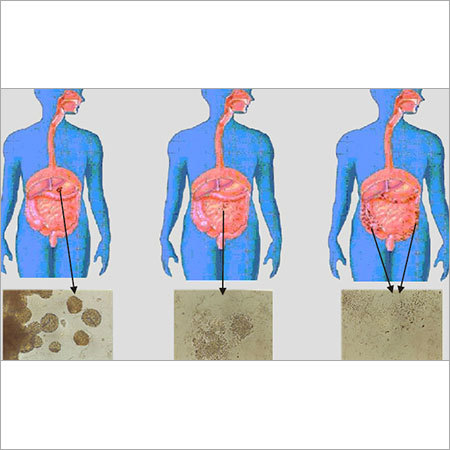 Product Description
Micro Encapsulated Bacillus Coagulans
From our experience, it is observed that the stability of Lactic Acid Bacillus is not that satisfactory when used in animal feed and pharmaceutical formulations. Sometimes the activity decreases thus making it necessary to add to extra overages in to the formulation. Normally, the moisture content, the process of formulation, diluents and temperature contribute in the loss of activity over a period of time. When ingested, the acidity level in the gut region is another reason for the bacteria to deteriorate in the gut region itself before reaching the active site of action in the body, thus making lesser count of bacteria available for action.
Further feed preparation involves aggressive processes like palletising and extrusion which are characterised by heat, moisture and pressure. In the case of hot extrusion, the higher temperatures employed facilitates the inactivation or destruction of contaminants but may concurrently result in the loss or damage of heat sensitive bacteria.
Micro encapsulated Lactic Acid Bacillus is a unique preparation of protecting the bacteria from all the adverse conditions. The micro encapsulation not only helps in maintaining the stability in the formulation but provides en-coating properties protecting the probiotic from acidic environment of the upper digestive tract of the host. Thus, the bacteria are delivered to the site of action i.e. small intestine safely to exhibit the desired effect without any hassles.
Lactic Acid Bacillus spores are coated by state of the art technology without affecting the integrity of the bacterial spores. The microencapsulation involves a widely accepted enteric coating material that does not have any toxic or side effect to the host body. These microspores do not get dissolved in acidic environment at a pH of 1.2 to 4.5 (stomach condition) . As the microspores move toward the intestine the increasing pH of the intestine dissolves the encapsulation and all the spores are released to exhibit maximum effect desired. When observed under microscope the microcapsules.
Benefits
Improves the shelf life, preventing oxidation and hydration through contact with the atmosphere
Reduce problems experienced in handling of fine powders
Withstand stresses during formulation like compression, Heat shocks
Withstands acidic onslaught in upper gastric region
Enable controlled release within a time period of under particular chemical or physical conditions
Taste masking
Better compatibility with Vitamins and Antibiotics
Reduction of overages
Compatibility with other ingredients
Mystical Biotech has devised and implemented the latest swirl flow technology for the microencapsulation of Lactic Acid Bacillus bacteria for the first time in India. Our studies have confirmed that microencapsulation helps in better stability of the product during the formulation process, many co ingredients like enzymes and vitamins being non active with encapsulation, and microencapsulated bacteria sustained the stringent gastric acidic conditions of the host body, thus making more bacteria available for action at the desired site.
Technical Specifications

| | |
| --- | --- |
| Tests | Specifications |
| Description | White to greyish white powder with slightly sweet in taste with characteristic odour |
| Identification | Shows terminal spores when stained and observed under microscope shall comply the test for the production of lactic acid. |
| Loss on drying | Not more than 5% |
| Storage | Stable when stored in air tight containers in a dry and cool place at room temperature |
| Standard concentration | 5,6,10,15,25,100 billion cfu/gm |
| Packaging | Available in 5,10 and 25kg fibre drums with sufficient polythene liners. |
| Shelf life | 3 years from date of manufacturing. |
Other Products in 'Probiotics' category
Get in touch with us